Precise Navigation
From Agony Unleashed
Originally written by Nick A'dim, January 2009

Preface
I want to thank AlleyKat for his great eve-video creation tutorials which made the basis for further subject research.
Almost everyone is aware of basic camera works in EVE client, like rotations, zoom (anyway it's covered in eve tutorial). Basic zoom (which is actually not a zoom but camera reposition) is performed by whether pressing and holding left and right mouse buttons (LMB+RMB) and moving mouse up and down or scrolling mouse scroll wheel. But there is one nice feature of EVE client like true zoom (actually changing the camera's focus distance in terms of optics). it's preformed by pressing and holding Ctrl+LMB+RMB and moving right(zoom in) and left(zoom out). That feature is nice when you do some fancy camera works and shoot eve movies, but it might be useful in other areas.
360 Sharpshooting
when you open 360 scanner and minimap (F11), you see two sectors in lowest section of minimap. Grey sector represents view sector, and green - scan sector.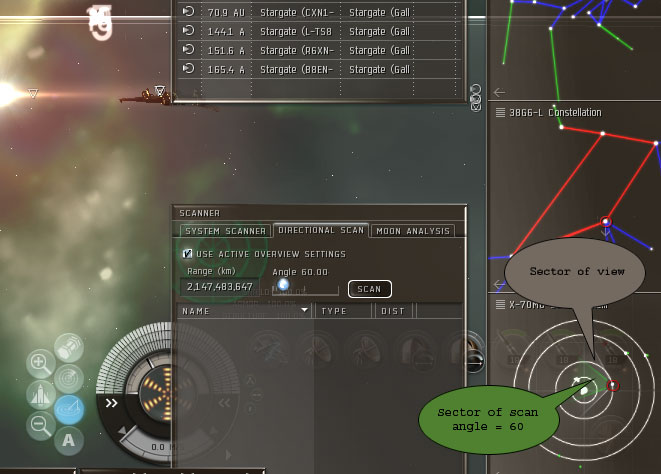 When you press-hold Ctrl+LMB+RMB and move mouse to the right, camera zoom factor changes and grey sector dynamically reflects that change.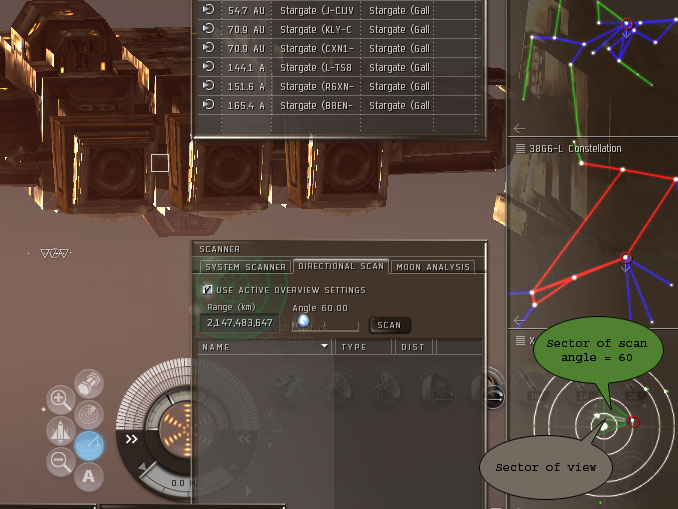 When zoom is maximal and scan angle is minimal - we have both sectors of the same size (actually view sector is a bit bigger, something around 7 degrees). These parameters give us sort of 360 sharpshooting setup.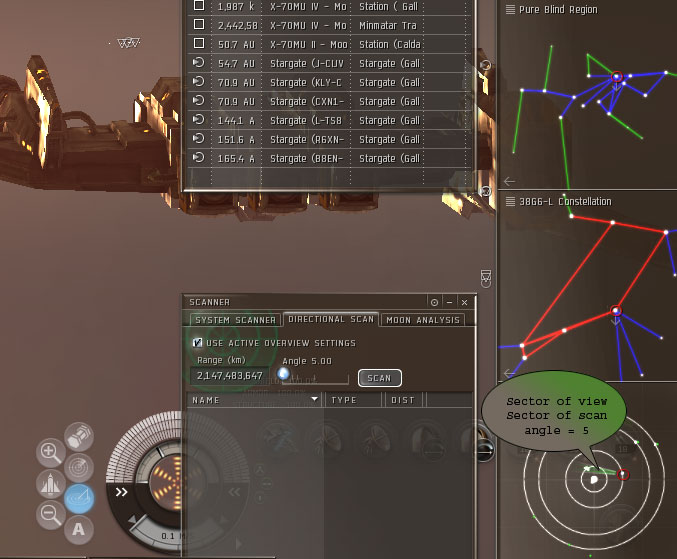 Vertical FlyBy bookmarks
procedure to create vertically aligned flyby alpha and beta BMs is similar to creation of vertical undock BMs.
Bubble BMs
With zooming technique one can create bubble BM with high level of precision.
Creation
At the time of writing bubbles showed the ability to affect warp exit point at the distance up to 200km. So we will focus on creation of the bubble BM positioned behind the gate and able to catch warps from celestial to gate up to @100km.
Small remark concerning bubbles around station - bubble position should be aligned with station anchor point (which is depicted by station icon)
Warp to the target gate(station) @100km from desired direction and jettison a container with some junk on arrival. That container will be our distance reference point.

instead of using reference container, one may enable size column in overview settings - it will give the diameter of the sphere bounding the gate. Here is the formula to estimate bubble to gate distance for "behind the gate" bubble placement to catch people warping to gate up to @100km: 100 + (bounding sphere size)+ (bubble to gate distance) <= 200

Move behind the gate and gain desired distance of 180-190km from reference container.
(pic. below) Make rough alignment and then fine-tune the ship position. For best result move camera as close to the ship as possible(mouse scroll wheel)

rough alignment with gates
maximum zoom shows inperfections
start moving towards desired alignment of gates' anchor points
when alignment reached - adjust distance using reference container to measure distance. Ship navigation during distance tuning is done with approach(closer) and [email protected] (farther) buttons.

bookmark position for bubble
Reuse of BM
To use bubble BM one should warp to that BM and on arrival start approaching it to remove 2km deviation effect. That approach will introduce ship trajectory oscillation effect. To counter it one can perform approach to the gate and then again approach bubble BM - that technique will introduce oscillation along gate→gate axis which is perfectly acceptable. Ship is at position for deployment of "perfectly" aligned bubble.
Planet bounce bubbles
It might get quite frustrating to watch "smart kids" break through your small gate-camp just bouncing of nearest planet instead of just warping straight to the gate. What if you've just missed blockade runner with fat faction loot :), because he's just bounced of the planet.
Here is how to create drag bubble for planet bounce.
warp to planet at whatever distance and jettison a container with some garbage. That container will act as the alignment guide.
warp to the gate at zero. During warp position the camera to look backward and catch guide container on 5 degree directional scan. Use warp tunnel graphics for visual aid.
on exiting warp immediately hit full speed triangle (to the right of speed arc) and engage MWD. That will maintain direction of travel even if you bump the gate.
when you gained needed distance from the gate, navigate ship to position gate icon at the center of the screen(when zoomed in) and to keep guide container at 5 degree directional scan
when you are happy with alignment and distance, bookmark position for future usage and anchor bubble.
remove guide container from planet grid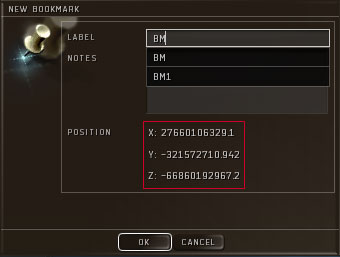 Everyone ever creating bookmark might notice those lengthy rows of digits in BM creation menu. Those are the coordinates of current position inside current solar system. Every single system has sun in its coordinates origin. Axis X faces West, Y - Up, Z - South if you observe solar system with F11 minimap open (for N-E-S-W reference). Integer part of coordinate is measured in meters.
Digital undocks
CCP provides Toolkit for community usage. It includes also static data dumps. We will use the info about station position (coordinates of anchor point), relative position of undock spawn point and coordinates of undock vector.
Note: coordinates of player built outposts are not included into dump, but bookmark creation if perfectly possible but a bit more involved
To create digital bookmark one reads data about the station of interest from table in Appendix A. Numbers from dockOrientation* columns give us the estimation of undock vector.
Lets analyze Station ( Caldari 5 ) information.
dockOrientationX = -2.31896729019e-006
dockOrientationY = -0.239630699158
dockOrientationZ = 0.970864117146
Multiplying every value with 1'000'000 (=1000km) we see the difference along axises.
along X axis = 2m east. That deviation can be easily neglected
along Y axis = 239.63km down.
along Z axis = 970.86km south.
So the possible procedure is:
create bookmark somewhere near undock spawn point and make notes of X, Y, Z coordinates.
multiply every dockOrientation* with distance in meters

if you have static dump installed on your PC you can use SQL to preform all calculations for you (see Appendix B for reference SQL)

start moving in estimated direction.
when you are about desired distance from base, adjust your position moving back and forth and check it with Add Bookmark - cancel buttons of People'n'Places UI.
when you are satisfied with coordinates - bookmark your position.
use this BM on your own risk. I found those digital BMs very freighter friendly (instawarp for possibly most awkward ship allowed to use docks). But don't ask for reimbursement for your lost ship when using this technique.
Appendix A
This table shows all entries of "station" type. Some entries are not present ingame.
| typeName | dockEntryX | dockEntryY | dockEntryZ | dockOrientationX | dockOrientationY | dockOrientationZ |
| --- | --- | --- | --- | --- | --- | --- |
| Amarr Citadel | 370.617919922 | 8566 | -390 | -1 | -1.19209289551e-007 | 0 |
| Amarr Class A Starport | -176 | -11789.0810547 | 4116.49902344 | 0 | -1.19209332183e-007 | 1 |
| Amarr Class B Starport | 2804 | 8566 | -390 | -5178 | 0 | 0 |
| Amarr Factory Outpost | -13208.5742188 | 88 | 237 | -0.999999940395 | 5.96046412227e-008 | 0 |
| Amarr Industrial Station | 0 | -21316.4511719 | 0 | 0 | -1.00000011921 | 0 |
| Amarr Mining Station | -10709 | -9721 | -2069 | 0 | -1 | 0 |
| Amarr Research Station | -13 | -5689.26806641 | 0 | 0 | -0.999999940395 | 0 |
| Amarr Standard Station | 199.788482666 | -12936.9394531 | 51.9939537048 | 0 | -1 | 0 |
| Amarr Station Hub | 0 | 11158.4707031 | 0 | 0 | 0.999999940395 | 0 |
| Amarr Station Hub (Damaged) | 0 | 11158.4707031 | 0 | 0 | 0.999999940395 | 0 |
| Amarr Station Military | 0 | -21987.5253906 | 0 | 0 | -0.999999940395 | 0 |
| Amarr Station Military (Damaged) | 0 | -21946.9589844 | 0 | 0 | -1 | 0 |
| Amarr Trade Post | -1749.89038086 | -9967.82910156 | 27 | 0 | -1 | 0 |
| Amarr Trade Post (Damaged) | -1749.89038086 | -9967.82910156 | 27 | 0 | -1 | 0 |
| Angel Serpentis | -1500 | 405 | -1800 | -1602 | 885 | -2205 |
| Blood Raider1 | 4674 | 14278 | -650 | -3327 | 0 | 0 |
| Blood Raider2 | 64 | -1249 | 1261 | 0 | 0 | -3948 |
| Blood Raider3 | -294 | -20500 | 2504 | 0 | 0 | 5255 |
| C-O-1 | 0 | 0 | 0 | 0 | 0 | -1 |
| C-O-2 | 0 | 0 | 0 | 0 | 0 | -1 |
| Caldari Food Processing Plant Station | -33431.2070313 | -2574 | 2477 | -1 | -1.19209332183e-007 | 0 |
| Caldari Mining Station | -27844.5488281 | -1354.30688477 | 2399 | -1 | 5.96046518808e-008 | 0 |
| Caldari Research Outpost | 330.967285156 | -837.971984863 | 12616.8886719 | 0 | 5.96046518808e-008 | 1 |
| Concord Starbase | -3152.70874023 | -39840.2539063 | -8244.79785156 | -2.18674836105e-006 | -5.39330758329e-005 | -1 |
| Concord Starbase (Damaged) | -3078.81445313 | -39928.6796875 | -8394.49511719 | -1.87754687886e-006 | -5.02995826537e-005 | -1 |
| Dark Amarr Station H | 0 | -9631 | 0 | 0 | -14338 | 0 |
| Dark Amarr Station O | -1449 | -10148 | 24 | -1645 | -4313 | -10 |
| Gallente Administrative Outpost | 68.9013824463 | -15087.7041016 | 2996.0324707 | 0.000366347376257 | 0.0782493054867 | 0.996933698654 |
| Heaven | -896 | -26555 | 4800 | 0 | -21214 | 0 |
| Jovian Construct | -1203 | -18300 | 5400 | 0 | -4616 | 0 |
| Minmatar Hub | -2909 | -1437.88049316 | 20657 | 0 | 5.96046447754e-008 | 1 |
| Minmatar Industrial Station | 6299 | 2654.04418945 | -11165.6542969 | 0 | 0.00626164721325 | -0.999980449677 |
| Minmatar Military Station | 30416.3066406 | -1172 | 3099.96264648 | 0.999999940395 | 5.96046518808e-008 | 0 |
| Minmatar Mining Station | 11903.6494141 | 8452.42285156 | -9744.41503906 | 0.999980449677 | 0.00626146793365 | 0 |
| Minmatar Research Station | 1390.30151367 | 27 | 28047.0371094 | 0.0313382260501 | 0.00616767024621 | 0.999489784241 |
| Minmatar Service Outpost | 3454.38549805 | -103 | 1666.26000977 | 1 | 5.96046518808e-008 | -5.92971076685e-008 |
| Minmatar Station | 17 | 3115 | 18255.1972656 | 0 | 5.96046518808e-008 | 1 |
| Minmatar Trade Post | 17 | 10096 | 12607.2060547 | 0 | 5.96046447754e-008 | 1 |
| Research Outpost | 3454.38549805 | -103 | 1666.26000977 | 1 | 5.96046518808e-008 | -5.92971076685e-008 |
| Station ( Caldari 5 ) | 123.39453125 | -4043.97363281 | 17010.3242188 | -2.31896729019e-006 | -0.239630699158 | 0.970864117146 |
| Station ( Caldari 6 ) | -28557.8710938 | -1158.93261719 | 2436.08154297 | -1 | 5.96046447754e-008 | 0 |
| Station ( Conquerable 1 ) | 0 | 5079.0859375 | -5337.78466797 | 0 | 0.195177391171 | 0.980767965317 |
| Station ( Conquerable 2 ) | 0 | -6001.50634766 | 4509.06787109 | 0 | -1 | 0 |
| Station ( Conquerable 3 ) | -1297.71374512 | 4860.29541016 | 6949.29296875 | 0.110589414835 | -0.0197495371103 | 0.99366992712 |
| Station ( Gallente 3 ) | -1004.37133789 | 4872.74853516 | 5903.59863281 | 0.350109219551 | 6.31068269286e-006 | 0.93670886755 |
| Station ( Gallente 4 ) | 9264.68457031 | 884 | 0 | 0.999999940395 | 5.96046412227e-008 | 0 |
| Station ( Gallente 5 ) | 7933.66796875 | 208.236450195 | -18212.3496094 | 0.280802875757 | -0.00825552735478 | -0.959729969501 |
| Station ( Gallente 6 ) | 9956.19238281 | 1058.91113281 | 0 | 0.999796926975 | 0.0201505292207 | 0 |
| Station ( Gallente 7 ) | 10679.8837891 | 1006.77294922 | 14350.2353516 | 0.999426364899 | 0.0338653326035 | 8.08496025684e-009 |
| Station ( Gallente 8 ) | 9788.60546875 | 938 | 0 | 0.999713182449 | -0.0120400795713 | 0.0207010973245 |
| Station (Caldari 1 Wrecked) | 875.929870605 | 4958.72900391 | -1991.92980957 | 0.921267271042 | 0.12210547924 | 0.369265168905 |
| Station (Caldari 1) | -170 | 3217 | -12112.1542969 | 0 | 5.96046447754e-008 | -0.999999940395 |
| Station (Caldari 2) | 11384.4287109 | 7499.12792969 | -270.25189209 | 0.981180846691 | 0.193091094494 | 1.37698270564e-008 |
| Station (Caldari 3) | 2447.21484375 | -3841 | -2988 | 0.95105612278 | 0.30901825428 | 0 |
| Station (Caldari 4) | 36 | 6854.26220703 | -7948.46679688 | 0 | 5.96046518808e-008 | -1 |
| Station (Gallente 1) | 0 | -5000 | 4800 | 0 | -1 | 0 |
| Station (Gallente 2) | -4.19215595571e-009 | 6143.52929688 | -3100.00708008 | 1.07482665044e-005 | 0.107010781765 | 0.994257867336 |
Appendix B
Here is the SQL query(MySQL dialect) to calculate undock coordinates (@2000km) for all stations in Nonni
SELECT it.`typeID`, it.`typeName`,  mr.`regionName` ,ms.`solarSystemName`, m.`itemName` ,
m.`x` +s.`dockEntryX` as 'DockX',
m.`y`+s.`dockEntryY` as 'DockY',
m.`z`+s.`dockEntryZ` as 'DockZ',
m.`x` +s.`dockEntryX`+ s.`dockOrientationX`*2000000 as X,
m.`y`+s.`dockEntryY`+ s.`dockOrientationY`*2000000 as Y,
m.`z`+s.`dockEntryZ`+ s.`dockOrientationZ`*2000000 as Z,
s.`dockOrientationX`,
s.`dockOrientationY`,
s.`dockOrientationZ` 
FROM mapdenormalize m, invgroups i, invtypes it, mapsolarsystems ms, stastationtypes s, mapregions mr
WHERE i.`groupID`=m.`groupID` and m.`groupID`=15
AND it.`typeID`=m.`typeID` AND ms.`solarSystemID`=m.`solarSystemID`
AND s.`stationTypeID`=it.`typeID`
AND mr.`regionID`= ms.`regionID`
/*
AND ms.`regionID`=10000033
and it.`typeID` in (3867, 57)
*/
and ms.`solarSystemName` like 'nonni'
ORDER BY ms.`solarSystemName`;